You are invited to attend the Wedding of
Daniel Cayer & Tammy MacIsaac
Here is your invitation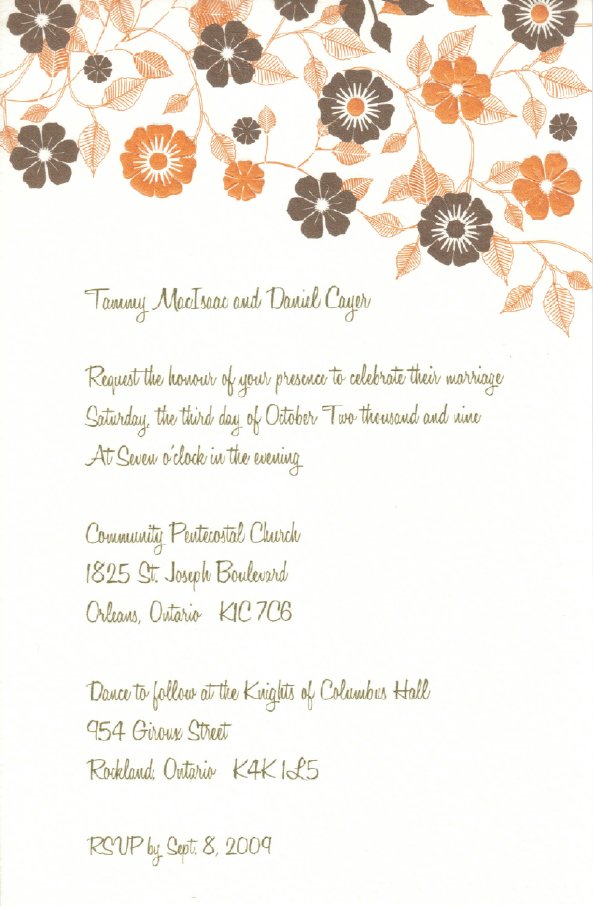 If you're flying into the Int'l Airport, you can get to Hwy 417 or Queensway (same road "Trans-Canada highway") by using the Airport Parkway North, the name changes to Bronson at some point but you continue without turning anywhere and Bronson brings you right up to the 417.
To go to the church, travel East on the Queensway and at the Hwy 417 / Hwy 174 split (just past St-Laurent Blvd) you stay left and follow Hwy 174 to Orleans. Use Jeanne d'Arc Blvd South (right) to second light, make right turn on St-Joseph to the church on the right side of St-Joseph. See map below.
Alternatively see http://www.cpcorleans.ca/map.htm
After the ceremony, the reception will be held at the Knights of Columbus Hall in Rockland.
From the church go back to Hwy 174 and turn East. Hwy 174 converts back to Hwy 17 once you leave Orleans. You will drive approximately 20 minutes before you come up to Rockcland. Turn off at Laporte St. (second light off hwy 17), go up the hill to the stop sign (RBC on left, Tim Horton's across the street), turn left onto Laurier and follow it to Giroux. Turn right on Giroux St. and you will see the K of C hall on the right.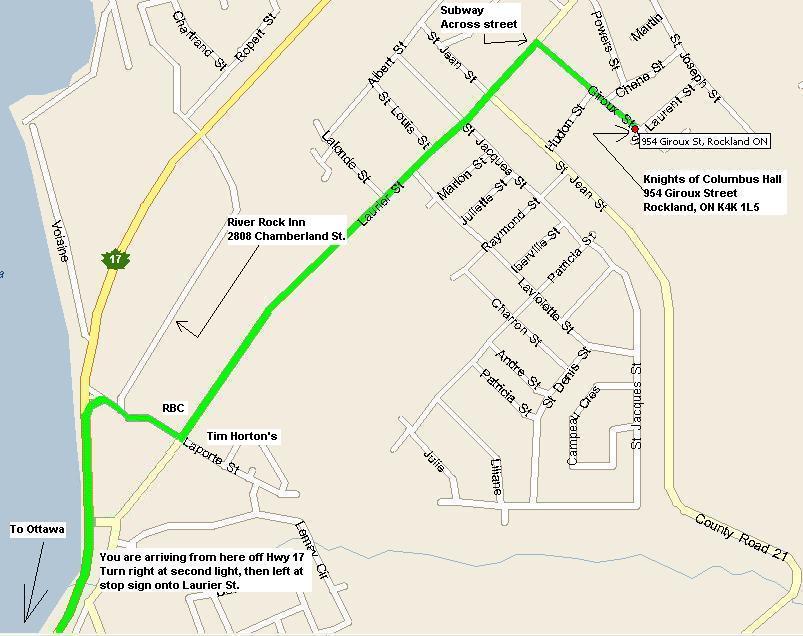 If you need accomodations while you are in the Ottawa / Rockland area, we reserved some rooms at a discounted rate at the River Rock Inn in Rockland. These may all be gone, but simply request a room from the "MacIsaac / Cayer" block of discounted rooms
To get to the River Rock Inn from the K of C hall, drive back out to Laurier turn left and go back the way you came in all the way to the stop sign by the RBC. Turn right on Laporte, and right again on the next street which is Chamberland. River Rock Inn is located at 2808 Chamberland St.
---
If you prefer staying right in Ottawa, you can also contact the hotels below
Travelodge on Carling
Webb's Motel on Carling
If you have any questions or concerns, you can contact Tammy or Dan